Our Village - KIRIYA RYOKAN English
History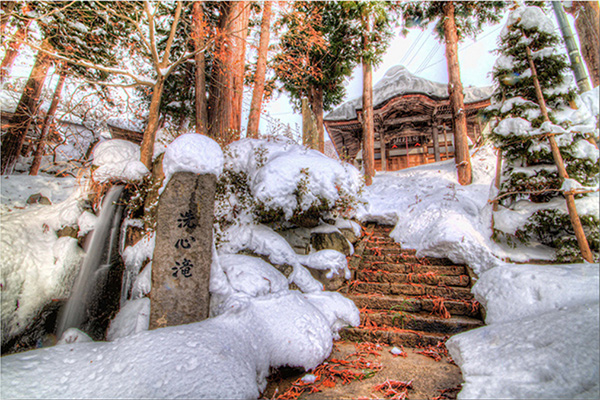 Nozawa Onsen village has a very long history and is thought to have been founded by a Buddhist monk in 724 during the period of the Emperor Shômu. Ongoing occupation prior to this has also been recorded suggesting a much longer history. The ruins of Stone-Age dwellings and pottery dating back at least 3000 years have recently been uncovered in the village.
As far back as 1250 AD, during the Kamakura period, Nozawa Onsen was already being recorded as being a popular travel destination.
The first private Bathhouse was constructed in the Edo period, when a regional lord visited one of the local onsen. The Bathhouse was built as a gift to his sage. This construction resulted in a set of rules (called Sodai) being put in place to manage the onsen that are still in use today. This includes the banning of boring for onsen springs which has resulted in all Nozawa Onsen spring sources being completely natural.  They are also run and managed by the town members and not by external parties.
Public bath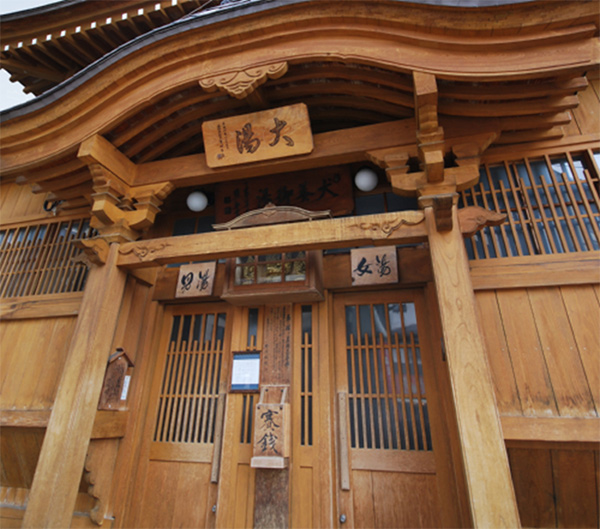 There are 13 free public onsen in Nozawa that are available to visitors. Kiriya has its own private onsens fed from a private spring. This geothermaly heated spring water feeds directly onto our onsen which uses an overflow system. In other words, no filtration is required as the mineral rich water is constantly being replaced by new water directly from the spring.
Fire Festival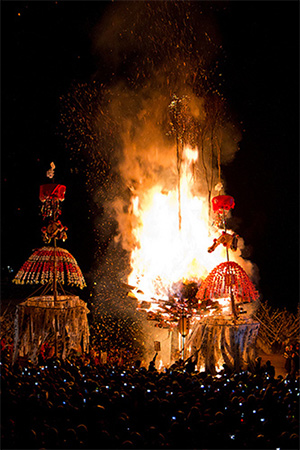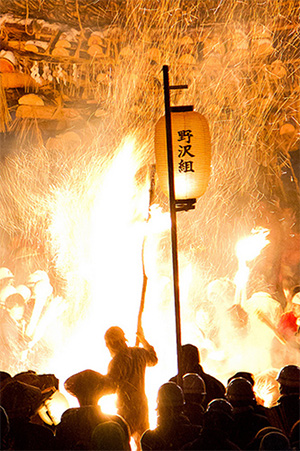 Nozawa Onsen is also home to the annual Dosojin, or Fire Festival. This famous event revolves around a six-storey wooden shrine that becomes the target of fire-bearing villagers. 42 year old villager males sit a top the shrine atop a bed of pine branches looking on as the 25 year old local men defend the base bare handed. Traditionally in Japan, these two ages have been considered unlucky and the event is a form of cleansing ritual for them. Eventually, the defenders concede defeat and the shrine is allowed to burn, producing a spectacular fiery display.
Village Restaurants
Nozawa Onsen has a variety of traditional Japanese eating establishments ranging from lively Izakiya (Restaurant/bar), noodle houses, all the way through to fine Kiaseki dining.
When you arrive, please feel free to ask for recommendations.