Accommodation - KIRIYA RYOKAN English
Kiriya is a Ryokan, and as such, is slightly different to your standard hotel. There is no real Western equivalent to the experience of staying in a Ryokan, but a good comparison might be found by combining the personal service and relaxed atmosphere of a Bed & Breakfast with the pampering found in a Day Spa. For the Japanese, the main drawcards of a Ryokan are the traditional style rooms, the natural hot spring baths, the food, and in particular the personal service. Because of this, a Ryokan stay can be considered more than just somewhere to stay and a visit to Kiriya is no exception. Facilities : Laundry corner Drying room Ski strage Free -WiFi
Rooms
Japanese Family Room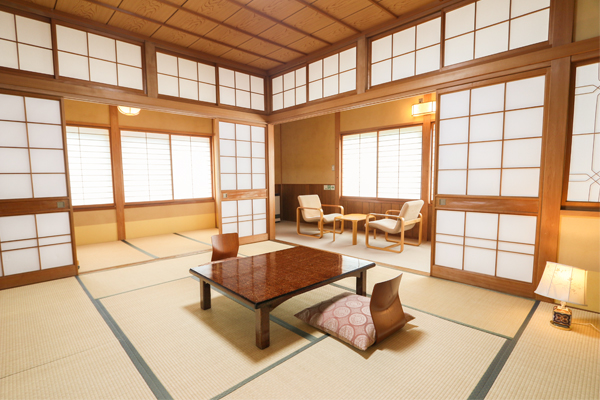 | | |
| --- | --- |
| Room: | Main room 10 tatami mats Sub room 4 tatami mats |
| Capacity: | 2-5 people |
| Room Facilities: | Air conditoner TV Safe box Bathroom Toilet Sink Tea set Telepohne Bar fridge Yukata Towel Toothbrush |
Japanese -Western Room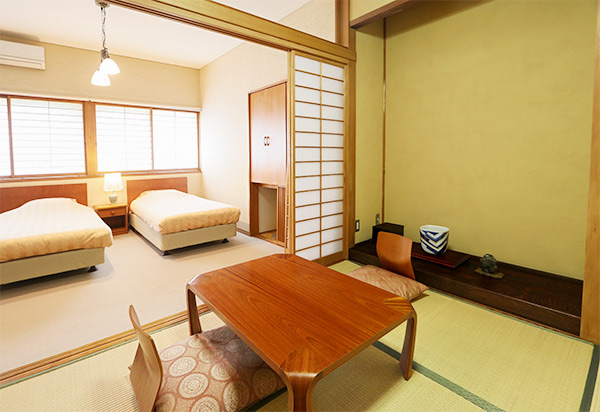 | | |
| --- | --- |
| Room: | Main room Twin Bed room Sub room 4.5 tatami mats |
| Capacity: | 1-3 people |
| Room Facilities: | Air conditoner TV Safe box Bathroom Toilet Sink Tea set Telepohne Bar fridge Yukata Towel Toothbrush |
Japanese Traditional Room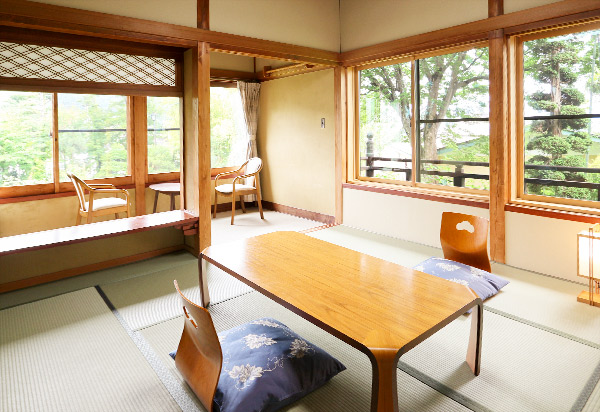 | | |
| --- | --- |
| Room: | Main room 8 tatami mats Sub room 4 tatami mats |
| Capacity: | 2-4 people |
| Room Facilities: | Air conditoner TV Safe box Toilet Sink Tea set Telepohne Bar fridge Yukata Towel Toothbrush |
Japanese Standard Room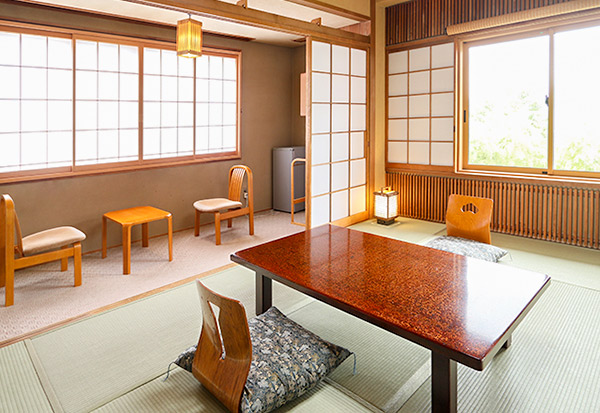 | | |
| --- | --- |
| Room: | Main room 10 tatami mats |
| Capacity: | 2-4 people |
| Room Facilities: | Air conditoner TV Safe box Toilet Sink Tea set Telepohne Bar fridge Yukata Towel Toothbrush |
Dinner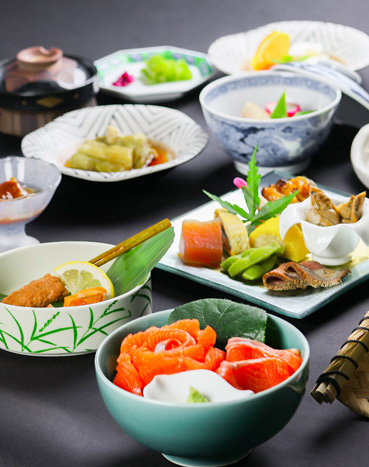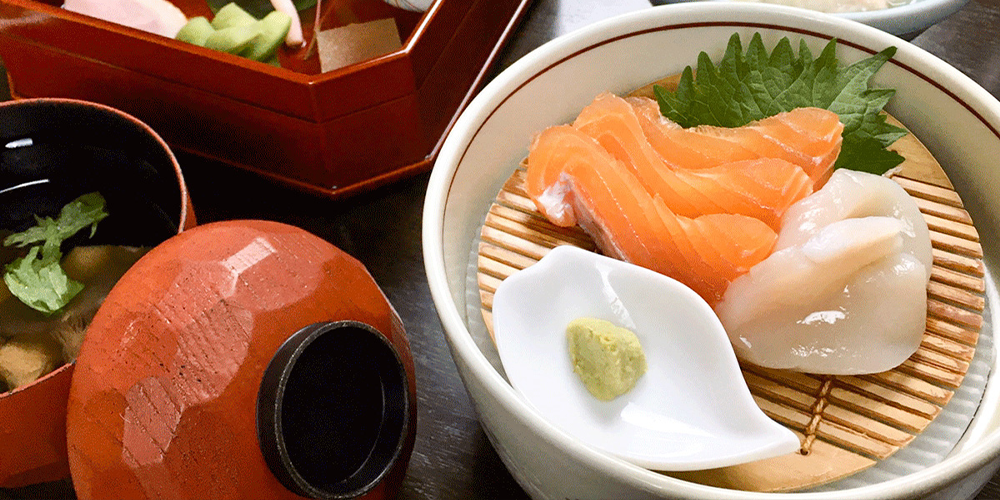 Meals are also a big part of a traditional Ryokan visit and most generally provide an elaborate style of cooking called Kaiseki. A typical Kaiseki meal features seasonal and regional specialties and consist of many small and varied dishes.
For this reason, most Ryokan stress that guests be punctual for their meals in order for each dish to be enjoyed at the proper temperature. At Kiriya, a staff member will come to your room before each meal to summon you at the appropriate time. Drinks for the whole meal are customarily ordered ahead of time, because once the meal has been fully served, guests are left to finish their meal at their leisure without interruption. At least one Kaiseki dinner should be experienced during a Ryokan stay. It is a unique look into Japanese cuisine and could be considered both a cultural and dining experience.
Photos
Kiriya's photos were uploarded on our Facebook page.
Please check that…